Our Resort
Your Hosts
Having grown up in the resort business, Jeff Anderson and son Quinn, age 17, and Harper, age 5, love sharing the best Leech Lake has to offer with their guests. Jeff knows how important family time is and enjoys making sure that your vacation is memorable for all.
Grand Vu was first established in 1945 as Prince Jackson resort. Grand Vu was the third resort acquired by the Anderson Family. Originally it was bought by Marty & Edie Anderson & Jeff Anderson in the fall of 1994. Marty & Edie retired & sold the entire resort to Jeff.
Jeff joined the Minnesota Army National Guard Infantry in 1993.  He was deployed to Bosnia from 2003 – 2004 and to Iraq from 2005- 2007. He retired in August 2014 after 21 years of service.
Hi Friends, We want you to come winter and summer. We'll be here to welcome you any time of the year. It is our 24th year at Grand Vu, one of six Anderson family resorts. We love it here in the North Country and we are working year-round to give you the great vacation you deserve. We hope you'll come and see for yourself why our guests find it hard to leave this special place! Grand Vu is a place to relax and unwind and we're working hard to make sure your vacation is the best ever!

Sincerely, Jeff, Quinn (age 17), Harper (age 5) & the Grand Vu Crew
Our Resort
Grand Vu Lodge is here to make your vacation dreams reality, and we want you to have the best time of your life. We provide clean, comfortable and luxurious guest homes, full amenities, a lodge, game room, laundry facility, full children's playground, water slide, boats, canoes, bait shop with fishing cleaning/freezing service, and scheduled activities for all ages! We're also conveniently located within 15 minutes of some of the area's best golf, shopping, fine dining, casinos, and entertainment!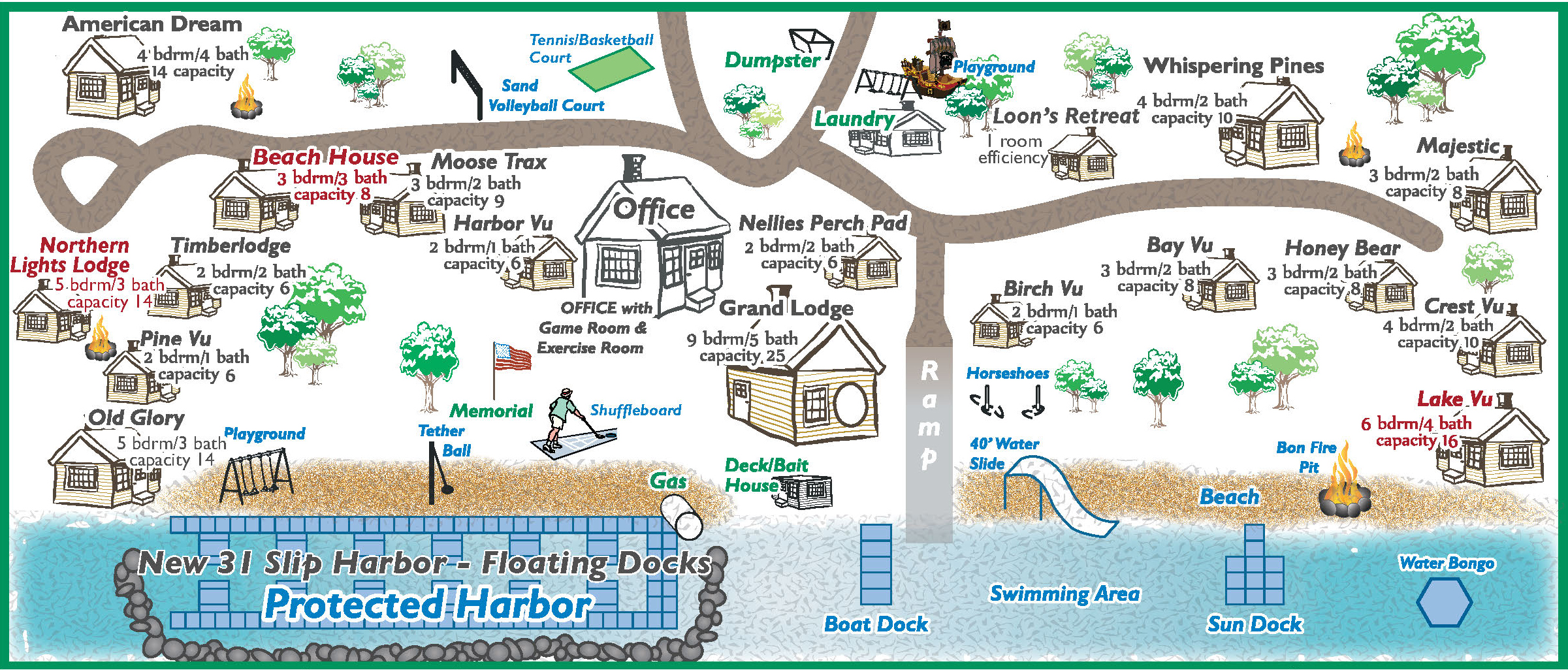 Resort Amenities
Resort amenities include a wide variety of availability in the lodge, bait shop with fish cleaning/freezing service, full scale children's playground, tennis/volleyball/basketball court, sand beach with water-slide, docks, fully-protected harbor, boat rentals, canoes, paddle-boats, bonfire pit, game room with pool table and arcades, water trampoline with attachments, paddle boards, kayaks, shuffleboard, horseshoes and fully landscaped grounds with water fountains.
Our Game Room attached to the office is open 24 hours for your convenience. It is decorated with antique toys & has a pool table (75 cents), FREE shuffleboard, books, & video games (25 cents) including Pac Man, Gunfighters, Cruis'n USA (car), Enduro Racer (motorcycle), & Tekken (kick boxing.)
Also located within the office is Jeff 's Gym, Grand Vu's fitness center that has a treadmill, elliptical machine, stair climber, Nautilus weight machine, pull-up ab equipment, & exercise ball. Bring your workout video to watch on the TV/DVD or listen to your favorite music on the stereo/iPod dock. Open 8 am to 8 pm for ages 13 and up.
Leech Lake Fishing
Leech Lake is the third largest lake in Minnesota and with 112,000 acres of water to fish provides some of the best Muskie, Walleye, Large-mouth Bass, Northern Pike, Perch, Pan fish and ever famous Eel-pout! Clear water, a relatively shallow basin and over 600 miles of shoreline await your exploration. Grand Vu Lodge is within easy boating distance to the city harbor in Walker, and offers a range of boats, canoes and paddle-boats for your lake adventures.
Take a Harbor Tour » Explore Lake Homes »